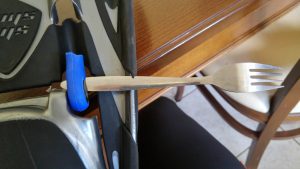 I will do this post in English because I've seen this being asked online a couple of times and chances are more people who are not Dutch will read this than vice versa.
During my last vacation one of the Power Bands of my Aqualung Slingshot snapped. Thanks to Alberto who, during our previous diving vacation, had advised my to buy some spare ones, I had brought two spare power bands with me. But I had never replaced them before. I turned out to be really easy. I documented the steps below.
You will need:
1 spare power band;
1 fork; just a plane metal one from the kitchen.